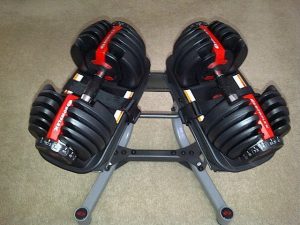 As great as home gyms are, all the gear can quickly eat square footage. Traditional dumbbell sets take up considerable space against the wall, which is the most valuable real estate of all in a home or apartment.
In contrast, Bowflex SelectTech 552s can neatly be tucked away in the corner or closet. Each dumbbell is 15.75″ by 8″ so even those living in a cozy apartment can consider these.
The 552s employs a dial system that moves in increments of 2.5 lbs. Depending on the exercise and your fitness level, each dumbbell can be anywhere from 5 to 52.5 pounds.
This ability to increase or decrease weight in small increments is one of the biggest advantages the Bowflex has over a traditional set. Sometimes moving up 5 pounds can be overwhelming and this makes harder for you to transition into lifting heavier weights. Bowflex has found the sweet spot with 2.5 lbs increments.
It's wonderfully engineered and unlike any other adjustable set available. The spindles are made of hard plastic that on rare occasion can break. Fortunately Bowflex has been good about sending out replacements in just 5 days when this happens.
The included DVD is surprisingly good because the exercises show you how to get the most out of SelectTech equipment specifically (and use it safely). You'll learn how to perform over 30 exercises with over 80 variations.
When lifting, the weights feel tightly constructed. The plates firmly lock onto the handle so there is no rattling or movement of the plates. The feel is very similar to the old school dumbbells we're all accustomed to.
The 15.75" length is fairly long which tends to make the dumbbells great for most exercises but slightly awkward for a few such as Congdon Curls and Flip Grip Twist Kickback.
The Verdict
Although I was skeptical at first due to the bright red plastic components, the Bowflex SelectTech 552 dumbbells have proven to be a workhorse set that can handle the abuse of daily workouts.
Even if you have loads of space, the 2.5 lbs increments have turned me into a believer and at this point I'd find it hard to go back to my basic set made up of 5s, 10s, 15s, and 25s.