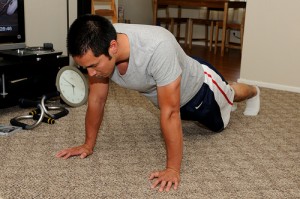 People are attracted to the image of workout systems like P90X and Insanity. It's hardcore! It causes even the toned, anatomically perfect people on screen to break a serious sweat. Additionally, who doesn't want fast results?
The reality is often what we perceive we need and what we actually need are two very different things.
Claims that anyone can do P90X and that one simply needs to tough it out are more likely to cause someone to quit than empower them. Naturally, any workout should challenge you but if you feel like you're at the foot of Mt. Everest when you pop in the P90X DVD something is wrong.
If you're out of shape, overweight, no longer a young pup, or a combination of all three, you need to start small.
Go on brisk walks more regularly, or dust off the mountain bike. Do simple exercises each day like squats, pushups, jumping jacks, and workout your upper body with resistance bands.
Once you start to feel the increased vitality regular exercise provides and confidence in your fitness level has improved, it's time to move on to a beginner's workout system.
Jillian Michaels' workout videos like 30 Day Shred, Ripped in 30, and 6 Week Six-Pack are an inexpensive, noncommittal way to get started. If you prefer to learn from a man, Bob Harper and Billy Blanks are also a popular choice.
Beachbody offers alternatives that are overshadowed by the success of P90X. The first is POWER 90: a less demanding 90-day regimen. The second is 10 Minute Trainer: a system for the busiest people or those not willing to do a 30-minute session every day.
For more detail, read my previous post about alternatives to P90X.
Once you've graduated from the options mentioned above or something similar, this is the right time to pick up P90X.
The problem with fitness advice is we often go to people who are much more advanced than ourselves for guidance who are more likely doers than teachers. Unless you're speaking to a professional trainer it's sometimes hard for people in good shape to step into the shoes of someone who isn't. This is why I think it's so common for people to recommend advanced systems like P90X and Insanity even when it's not appropriate.
Keep in mind that we all need to start at the bottom floor. There's no magic bullet or shortcut to a body you're proud to show off at the beach.
Don't be ashamed of starting small and with feasible goals. Let your mantra be any activity is better than no activity. It may take you farther than you ever imagined.