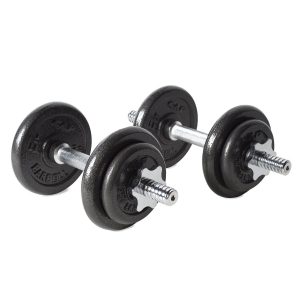 Much like the previously reviewed Yes4All dumbbells, CAP Barbell's 40-pound adjustable dumbbell set is an affordable entry-level option for beginners and frugal enthusiasts alike. At just over $40 it's priced nearly the same as it's closest competitor.
The design is straightforward and classic as you'd expect at this price; no fancy spaced aged engineering here. Just solid durable cast iron plates, rubber trim collars and ergonomic handles.
The 40-pound set includes two handles, four 2.5-pound plates, four 5-pound plates, 4 collars, and a plastic storage case.
The molded case is a great idea and really handy for people like me who like to change up their location to keep their exercise routine interesting. Inside there are recesses for each iron plate, which do a good job of keeping everything in place. I found I especially appreciated this while it was in the back of my vehicle.
One major difference between these and the Yes4All dumbbells is the shape of the iron plates. The CAP plates have nicely rounded edges while Yes4All's edges are sharply squared off. This of course comes down to personal preference, though I will say I preferred smooth feel of the CAP plates when adding or removing weights to the handles.
This line in the description on Amazon.com shocked me a bit.
Warning: This product contains one or more phthalate chemicals known to the state of California to cause birth defects and other reproductive harm
While I appreciate the disclosure it makes me ponder the costs of buying cheap Chinese goods.
The smell may be overpowering to some and definitely compounded with the health warning to make me weary of spending much time with the plates until thoroughly aired out in the garage.
Although 40-pounds isn't much weight and it would be better if this was available in more weight configurations, additional plates are available from CAP. Adding a few more five or ten pounders isn't a big deal. However, if you want absolute certainty you won't outgrow your dumbbell set I'd look to the Yes4All sets that range from 40 to 105 lbs.
The rubber washers in between the cap screws and the plates may fall out, since they are not secured in any way. You may opt to either superglue the washers on or remove them entirely. The caps tighten just as well without the washers.
You'll need to tighten the caps fairly tightly to avoid any possible "clanging" noises.
The Verdict
These dumbbells by CAP Barbells provide a good start. Flaws such as the bad odor and easy-to-lose washers are pretty standard at this price. I wouldn't be surprised if these dumbbells were manufactured at the same factory as the competition (Yes4All). Still at a little over $40 it's hard to complain with all solid components and iron plates with a professional look and feel. If you're a beginner or short on the funds needed for an adjustable dumbbell set from Bowflex or Powerblock, don't hesitate to give these a go.