In a world of endless distractions, anything that gets you active while entertaining you is golden. We're more likely to do the things that are good for us when it's an engaging, enjoyable experience.
You may have heard that VR can give you a pretty good cardio workout. This is great news for gamers that want to get off the couch, and explore new ways to interact with virtual environments.
In truth only certain VR games are sure to get your heart pumping. Thus, it's not as simple as picking up the latest headset from Sony or Oculus and playing any VR game that appeals to you. The right approach is necessary to meet your fitness goals. You'll need to find the games that require a high level of physical activity, and balance that with the ones that hold your interest as well.
Before diving into recommended apps, I'll cover a few important points you should know before using VR to boost your fitness level.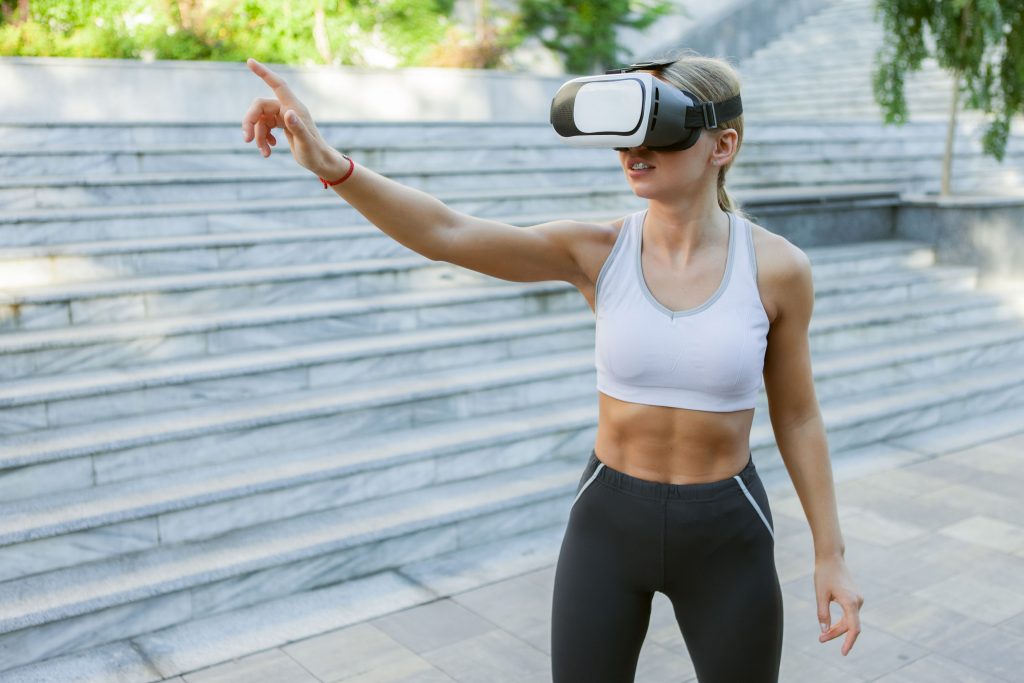 Things to Consider Before You Start
It's best to be realistic about what VR can help you achieve, and what it can't.
A VR headset won't replace a vigorous treadmill workout, no matter how much tech-enthusiasts and gamers wish it could. What VR can do is complement an already active lifestyle.
Fun video games tend to be addictive, and if the game requires a decent amount of physical activity, that addictiveness works in your favor. On the days you're struggling to get moving, VR games can be a good motivator. And in many cases that will be the push you need to move it up to the next level and go for a jog or hit the gym.
Get a VR headset that's easy to use, and conducive to working out. Some VR headsets are ideal for fitness, while others may add frustrations to the experience. For example, a headset like the Oculus Quest 2 can be used as standalone device. So, you'll be working out in no time when the desire strikes you without many tech concerns. Other headsets like the HTC VIVE require a tethered PC which ultimately means additional cables and a more complex setup. When it comes to working out, convenience trumps professional features.
Use apps to complement your existing workouts, not replace them. Games like Beat Saber will get your heart pumping, but it's not going to replace a fully-body workout at the gym. The idea here is some activity is better than none. So, when you're in the mood to play video games choosing active VR games over standard PS5 is a health-conscious decision. What you can't do is con yourself into believing VR provides you with a serious workout. Rather, view it as an additional avenue to get some cardio in.
Design VR workout routines that you'll stick with. Repetitive, overly simplistic VR games likely won't hold your attention in the long-term, even if they're good for your workout goals. You'll likely want to find a group of apps you can play back-to-back which will vary your movement as well as keep you entertained. The most beneficial VR games might not be the most physically intense ones. It's the games that keep you coming back and keep you motivated that should earn a spot in your routine.
Take breaks, and take them often. When it comes to staying fit it pays to do more reps, but when you have a VR headset on the game changes. Using VR apps for too long can cause motion sickness. And everyone has a different level of sensitivity to this. So always pay attention to what your body is telling you and be willing to quit even when the game is pushing you forward and you have an in-game achievement right around the corner.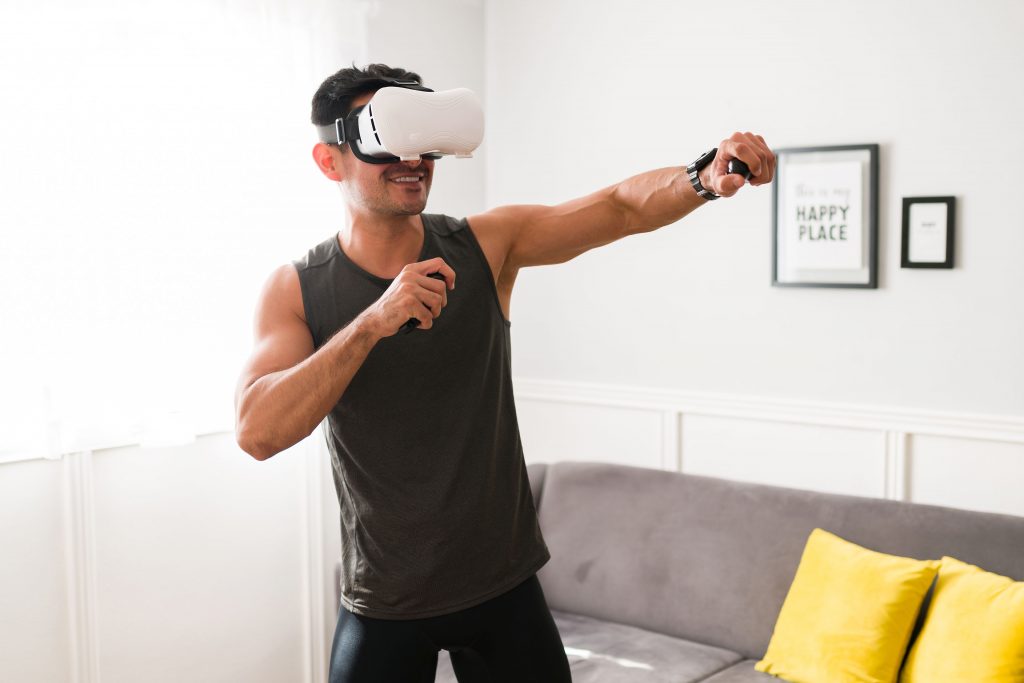 VR Games that Boost Your Fitness Level
From rhythm games to action, to dedicated fitness titles, the options keep growing when it comes to VR apps that make you break a sweat. Here are some recommendations that will get you rolling!
Beat Saber
If you were to cross Star Wars with Guitar Hero, you'd have something very similar to Beat Saber. It's based around the action of knocking cubes away from you with lightsabers. And since it's a rhythm game, you do it to the beat. You also must avoid walls either by ducking or moving to the side, which keeps the gameplay fresh and gets your legs moving too. The gameplay is simple yet addictive since bashing blocks to the rhythm never ceases to be challenging and fun.
Fans of high-energy music will appreciate the inclusion of tracks by major artists like Lady Gaga, Skrillex, and Billie Eilish. All in all, Beat Saber provides a great way for music lovers to get so engrossed in becoming one with the tunes that it's easy to forget they're doing something that's good for their body as well.
Supernatural
When you're ready to push your ad hoc VR workout regimen to the next level, Supernatural provides that additional structure to keep you on-track. Its guided workouts are led by real fitness trainers. And to give you eye candy and take full advantage of VR tech, these workouts are hosted in stunning locations around the world (or in another world).
Supernatural's signature gameplay is called Flow, and If you've played rhythm games like Beat Saber or Audio Trip, it will look familiar. Your controllers are used to smash oncoming targets to the rhythm of the song. To add to the intensity and give your legs an equal workout, you must also perform squats or lunges under sets of triangles.
Dance Central
Miss dancing at nightclubs, but not the lineups and overpriced drinks? The VR iteration of Dance Central isn't just another dance game. It's a simulation of the dance club experience. Strap on your headset and look around to see neon lights and other club-goers doing their thing on the disco dance floor. The dancer in front of you demonstrates the dance moves and you copy them.
In Dance Central, you perform a wide array of body movements instead of the same repetitive motions throughout the game. Although it's not the most strenuous workout, it's an effective way to loosen up your arms and legs and stretch your body. Thus, Dance Central is ideal for warm ups. To top it off, the built-in fitness tracker allows you to see how many calories you've burned.
The Climb 2
Climbing is one of those actions that works really well in a VR game. Although you likely have a healthy measure of fear for heights, or never dreamed of scaling a mountain, it's amazing to experience extreme climbing scenarios from the comfort of your headset.
The Climb 2 sticks to what it excels at: climbing and eye-catching environments. So, there's no storyline to speak of here. You'll be grabbing protrusions in rock, gripping rope, and swinging your way across detailed mountains and tall buildings. If you're looking for a decent upper body workout in VR, this is it. Your triceps and shoulders in particular will benefit when you immerse yourself in the world of The Climb 2.
VZfit
Those who own a stationary bike and enjoy sight-seeing will want to check out VZfit. Rather than staring at the walls in your home you'll be crossing the Golden Gate Bridge, enjoying the scenes of Paris, or even riding up Mount Everest. It looks incredibly realistic because it is! Explorer utilizes Google's Street View technology and adds some technical wizardly on top of that to produce its 3D-like environments.
Naturally, special hardware is needed for the game to detect your bike's activity. The VZfit sensor kit includes a Bluetooth pedal mounted sensor and a Bluetooth controller.
Until You Fall
Want to hack and slash your way to a super fun workout? Until You Fall is roguelite sword fighting experience that fuses melee combat with magic. At the start of the game you have a long sword in your dominant hand and a dagger in your other hand. You'll face menacing looking enemies armed with close-range and long-range weapons. Dodge, block, slash, and cast spells to move deeper into its colorful yet treacherous fantasy world.
To stay alive in Until You Fall, you're constantly pushed to remain active. Thus, it provides an unlikely combination of fantasy, action, cardio workouts, and motivation. The Virtual Reality Institute of Health and Exercise rated it as an "Elliptical Equivalent." It has a metabolic equivalent (MET) score of 4.18, which means you can burn roughly 4 to 5 calories per minute of play.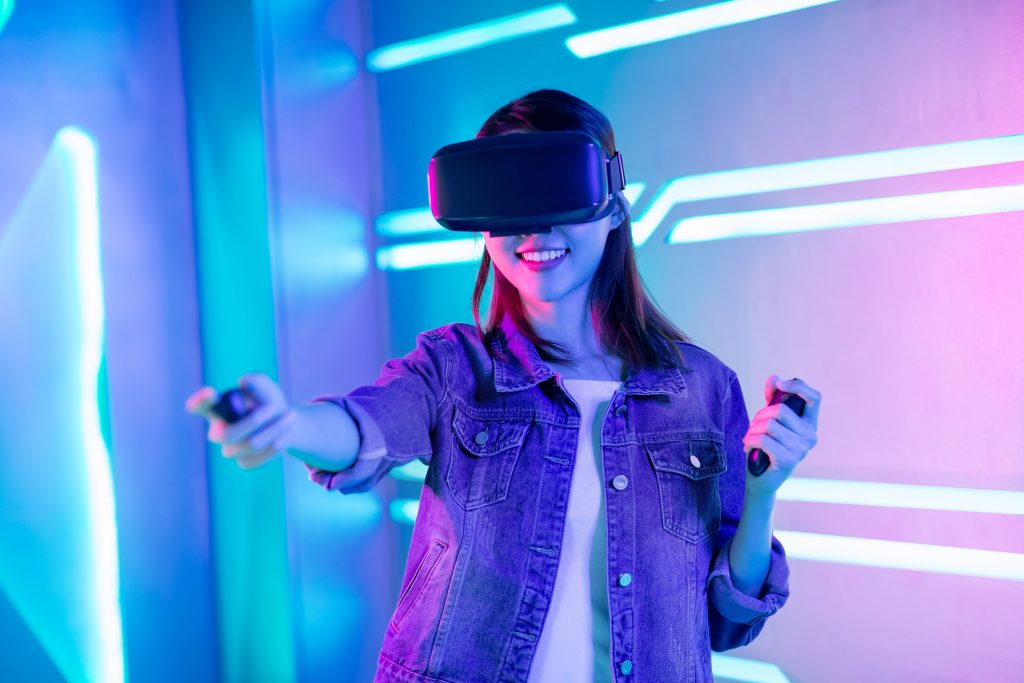 Conclusion
The superior motion detection and visuals in latest-gen VR means that video games with fitness benefits have reached the next level. You can go for straight-up fitness titles or opt for other genres such as action that have the side-benefit of getting your blood pumping.
VR headsets that can be used standalone take the cake when it comes to working out. With no additional device and cable to plug into it, there's nothing to limit your movement.