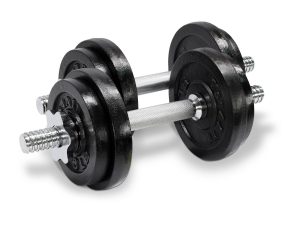 Adjustable dumbbells such as the popular Bowflex SelectTech 552 are amazing feats of engineering, super fast to adjust to the amount of weight you need, etc. However for many there is one key disadvantage: the price. While worth it if you workout regularly, not everyone can justify paying this much on fitness equipment, period.
Yes4All has answered the call for those seeking an affordable solution with adjustable dumbbell sets with configurations of 40, 50, 52.5, 60 and 105 lbs. The price starts at just over $40 and the weightiest model goes for under $100 on Amazon.com.
Don't let the price fool you. These will easily beat the generic dumbbells sold at Walmart or Target. And just like much more expensive options they don't take up much space or require a rack like traditional dumbbells.
These are classic adjustable dumbbells in form and function. The components are all solid, made up of cast iron plates, solid chrome handles, and spin-lock star collars. Screwing on the end pieces may take a bit longer than the fancy weight adjustment mechanism featured in the Bowflex, but it's a tried and tested method of keeping everything in place. If you aren't changing the weight of you're dumbbells that often the minor inconvenience won't matter much. The collars may slowly come loose as you workout so you might need to tighten these intermittently as you exercise.
Yes4All dumbbell sets have the advantage of growing with your needs. Even if you're an absolute beginner lifting 10 lbs per arm and dream of becoming a triathlete some day, the right set could get you there.
Some people have noticed an odd odor coming from the paint on the plates. This goes away after a while. The paint may also flake off over time if you're rough on them, so if you don't workout in the garage, preferring a carpeted area, the resulting mess may be an issue.
There are rubber O-rings on the end caps that help create a tight seal between the caps and plates. Annoyingly, the O-rings aren't attached to the cap so you'll either have to be careful not to lose them or superglue each on.
The Verdict
Yes4All dumbbells have their flaws, however at this price that is to be expected. The only thing you'll need to get the most out of one of these sets is a bit of patience. The design is classic and far less refined than high-end adjustable dumbbells by Bowflex or Powerblock, however the quality of materials used is pretty impressive. If you're not sure how serious you'll be about your workout regimen, or are on a strict budget, Yes4All dumbbells will give you good start.